Golden Boy
How to raise a dog all wrong … and end up all right
A memoir (sort of)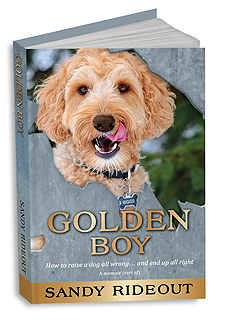 Meet Sandy. She's a cat lady. She likes a calm, clean, orderly life, and long days spent writing. A dog really doesn't fit in the picture. Yet when life hits an unexpected rough patch she decides a dog is exactly what she needs to shake things up and bring back the joy. It has to be just the right dog, of course—loyal, loving, and low key. Perfect obedience and good grooming mandatory.
Enter Riggs. He's a 34 lb. Goldendoodle billed as Sandy's perfect match. It certainly doesn't seem that way at first. Riggs has better things to do than sit around adoring anyone. There are muddy trails to run and dead things to eat or, better yet, roll on. He nips the hand that feeds him—and the butt attached to it, too.
This relationship is rocky from the start. Can a novice dog-owner tame the rogue doodle and turn him into her golden boy? Can Riggs get this hangdog cat lady back on track and having some fun? Or will they break each other trying?
Sometimes … you get the dog you need.

Read an excerpt
BUY THE eBOOK: